New at NAMM!
RME Audio has announced a whole line of new products for this year that look very exciting and innovative.
Shipping in January 2020
Babyface Pro FS
This next-generation model replaces the current Babyface Pro. Featuring new rep and converter design and well as a fantastic Plug-In Bundle!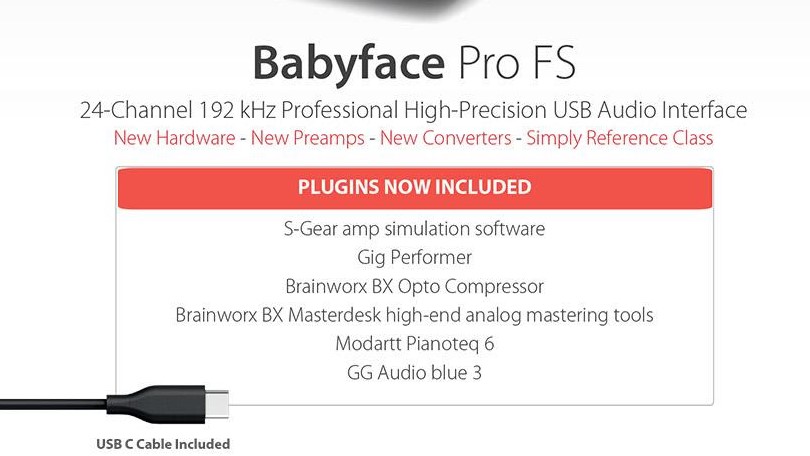 ADI-2 Pro FS
Price Reduction!
It was $1999 Now only $1699 
Shipping this month.
Shipping in February
ADI-2 Pro FS R BE
The ADI-2 FS 
Black Edition with extended remote 24 Bit / 768 kHz, 2 in / 4 out Hi-Performance AD/DA-Converter with USB, 9 1/2", 1RU
Limited Edition!
Shipping in March 2020
New AVB and MADI products line
12Mic
The RME 12Mic features twelve microphone and line level inputs with digital, no-compromise, studio-quality conversion; remote controllable gains; integrated MADI and AVB connectivity; plus a multitude of additional functionality, designed to make it the perfect companion for any professional recording setup.
AVB TOOL
AVB and MADI Router and converter, 4 ch mic preamp, and more
The RME AVB Tool combines MADI and deterministic AVB networked audio with four high-precision microphone, instrument and line level inputs, plus headphone and separate line level outputs. Following RME's concept of maximum versatility and connectivity, 128 channels of MADI I/O have been also added to this half rack 19" device.
M-1610 Pro
16 x 10 AD DA to AVB, MADI, ADAT Converter/Router
Integrating 16 analog inputs with a switchable sensitivity of up to +24 dBu per channel; 8 corresponding analog outputs; and an additional headphone output, the M-1610 Pro brings plenty of analog I/O to any studio setup. With its coaxial and (optional) optical MADI, redundant AVB, four ADAT optical outputs, and redundant DC coupled outputs, the device represents one of the most versatile and highest-performing converters on the market.